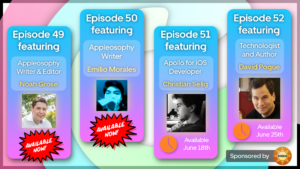 Today, RedFruit Media announced that blockbuster technology podcast, Appleosophy Weekly, will be expanding beyond its existing audio format by offering listeners the ability to unwrap the tech of today via video.
Beginning this Friday, June 11, viewers can access Appleosophy Weekly's landmark 50th Episode Special (featuring extensive WWDC'21 coverage), as well as last week's episode, 49, by visiting Appleosophy on YouTube: https://www.youtube.com/c/Appleosophy.
Hosted by esteemed tech analyst and digital marketing guru Brahm Shank, Appleosophy Weekly has seen average listenership grow by over 90% within the last 6 months – 30% of whom are tuning in from non-Apple devices / platforms.
Additionally, late last month, well-known tech aficionado and accessibility ally Will Sigmon joined as co-host of Appleosophy Weekly. Sigmon joins permanently among a number of notable guests who have appeared on the podcast including: YouTuber iDeviceHelp, AppleTrack creator Sam Kohl (@iUpdate), Apple leaker McGuire Wood (@Jioriku), App developer and 9to5mac.com journalist Guilherme Rambo, host of the Granted Geek Show Chris Grant Jr., and many more.
"It has been our goal from the very beginning to maintain a show that intuitively provides a snapshot of the consumer technology industry week-to-week. Though it is Apple-focused, we've also made it our priority to read past headlines and articulate cohesive explanations that illustrate and simplify the intricacies of technology and how these aspects drive consumer demand across the globe." -Brahm Shank
Appleosophy Weekly is slated to continue this momentum with even more special guests later this month. These guests include Christian Selig – developer of the award-winning Reddit app Apollo. Selig will detail what the reveal of iOS 15 and its respective APIs mean for the future of Apollo.
After Christian, Emmy-winning technologist David Pogue of The New York Times and CBS Sunday Morning News will join to discuss the significance of digital wellness.
Existing listeners and followers of RedFruit media content are encouraged to subscribe to the Appleosophy YouTube channel, as well as the podcast to stay up to date on upcoming episodes and announcements.
Appleosophy Weekly Audio Podcast: https://anchor.fm/appleosophy- weekly
Appleosophy Weekly Video Podcast: https://www.youtube.com/c/ Appleosophy
Press Contact:
Brahm Shank – SVP Worldwide Marketing
Email: [email protected]